Our Specials – September 18, 2023
Monday
All Day Specials
Open Face Roast Beef – Roast Beef with Au Jus |  Complimentary Fountain Drink
White Russian Grinder |  Complimentary Fountain Drink
---
 Dinner Specials
Grilled Chicken Bruschetta
Served with a Side of Pasta,  Salad & Bread | 10% off
Baby Shells with Meat Sauce
Served with Salad & Bread | 10% off

Tuesday
All Day Specials
Italian Hoagie or Cheese Steak | Complimentary Fountain Drink
---
 Dinner Specials
Chicken a la Casa
Chicken Marsala with Imported Prosciutto and Mushrooms.  Includes Salad & Bread | 10% off
Baked Ziti
  Includes Salad & Bread | 10% off
Wednesday
All Day Specials
Choice of Burger Served with French Fries | Complimentary Fountain Drink
Meatball Parmigiana  | Complimentary Fountain Drink
---
Pasta Night
Italian Feast –  Meatballs & Sausage over Your Choice of Pasta.  Includes Salad and Bread | 10% off
Chicken Florentine –  Choice of Pasta.  Includes Salad and Bread | 10% off
Thursday
Your Choice of Wrap – Served with Fries. | ComplimentaryFountain Drink
Meatball Parm with Beverage | Complimentary Fountain Drink
---
Dinner Specials
Lasagna Includes Salad & Bread |  10% off
Chicken Alfredo  Includes Salad & Bread |  10% off
Friday
Lunch Specials
Grilled Chicken Sandwich  |  Complimentary Fountain Drink
Eggplant Parmigiana  |  Complimentary Fountain Drink
---
Dinner Specials
Stuffed Shells Includes Salad and Bread | 10% off
Chicken Parmigiana  Served with Salad & Bread |  10% off
Saturday
All Day Specials
Baked Sub  | Complimentary  Fountain Drink
Sausage Florentine on a Kaiser  |  Complimentary Fountain Drink
Dinner Specials
Manicotti Bolognese
Served with Salad & Bread | 10% off
Eggplant Parmigiana
Served with Salad & Bread | $18.40
Sunday
Ravioli Night  Choose from Parmigiana or Bolognese.  Salad and Bread Included |  10% off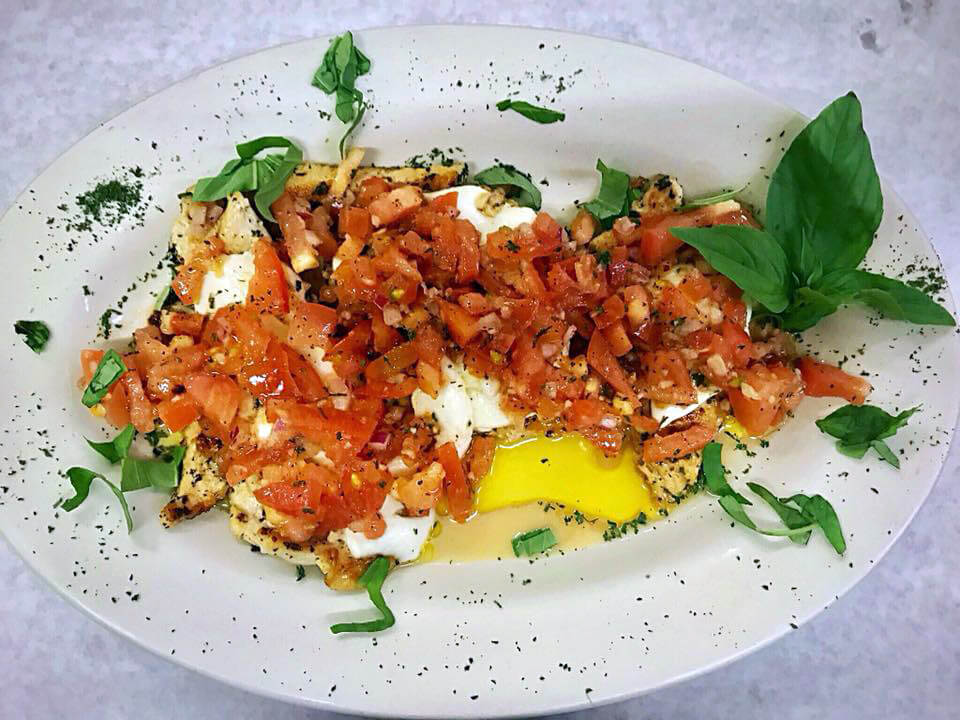 Monday: Tortellini Emiliano – Sautéed in butter sauce with light cream and shaved parmesan cheese
Tuesday: Ziti al Forno – Ground beef, chopped ham, ricotta, grated parmesan cheese
Wednesday: Spaghettata – Ragout of sausage and meatball
Thursday: Lasagna – Ground beef, ricotta, and mozzarella cheese
Friday:Fettucine allo Scoglio – Shrimp, clams, mussels, in red or white wine sauce
Delivery & Takeout
Don't want to dine-in? We offer takeout and delivery as well.
" The best pizza and Stromboli's in the area! Very friendly staff and great service! "
" This is far and away the best pizza within a 30 mile radius. All of the food is good but if you're looking for a pizza spot this place ranks 1,2,&3 in my book."
" Love this place always great service when delivered. Perfect for when we need take out!! Thanks for making me & my families experience a great one! "
Hours
Mon - Thu : 11:00am – 9:00pm
Fri - Sat: 11:00am – 10:00pm
Sun: 12:00pm – 9pm